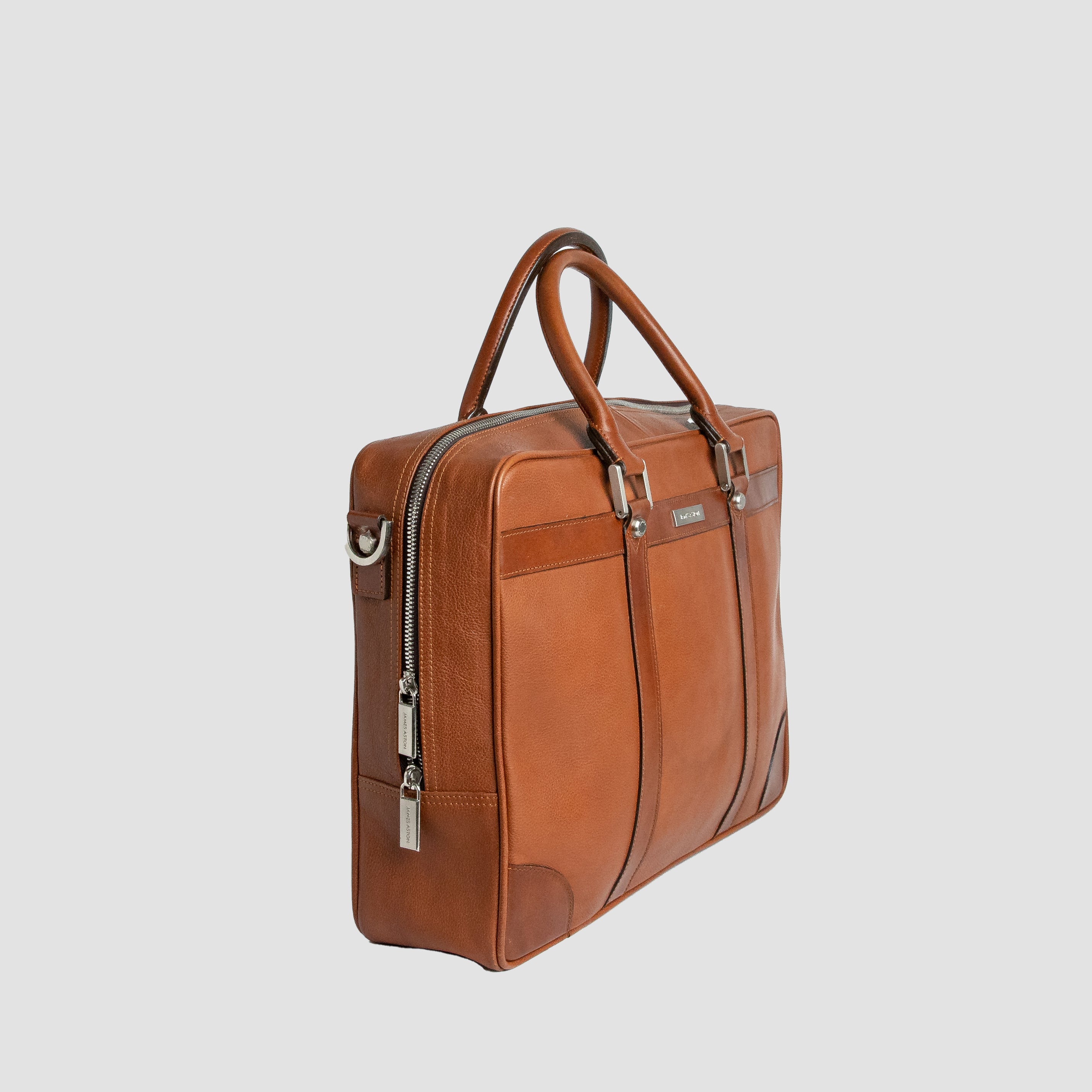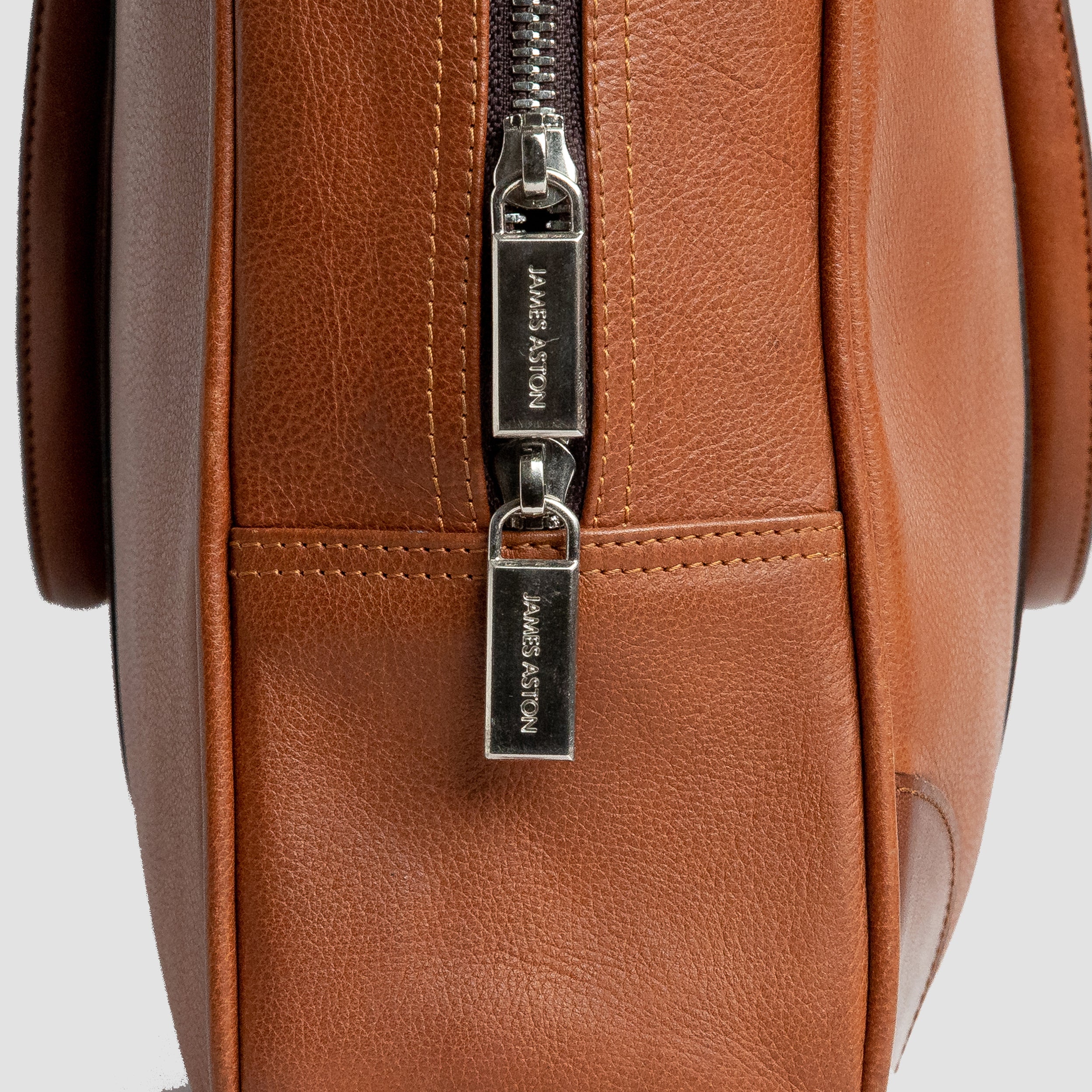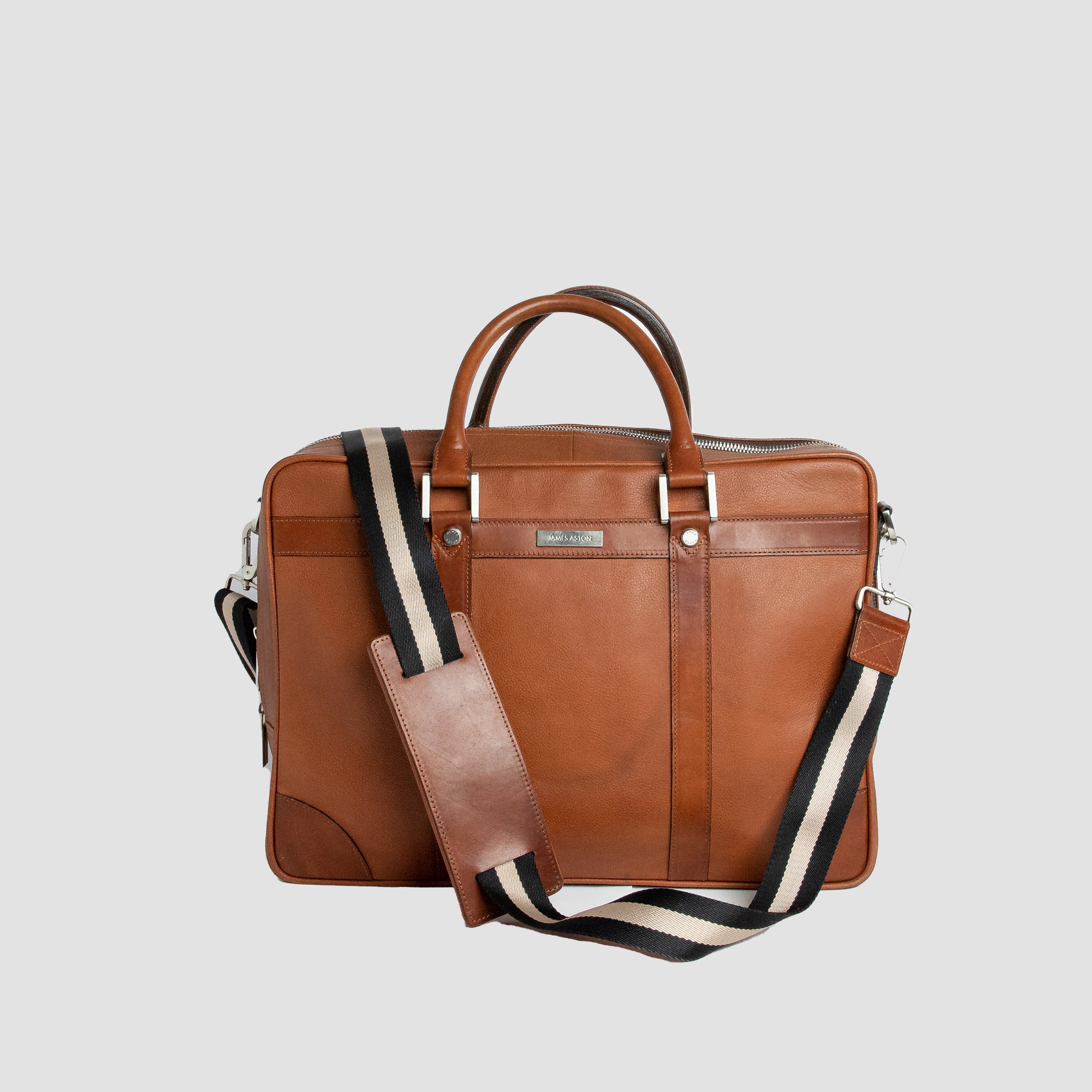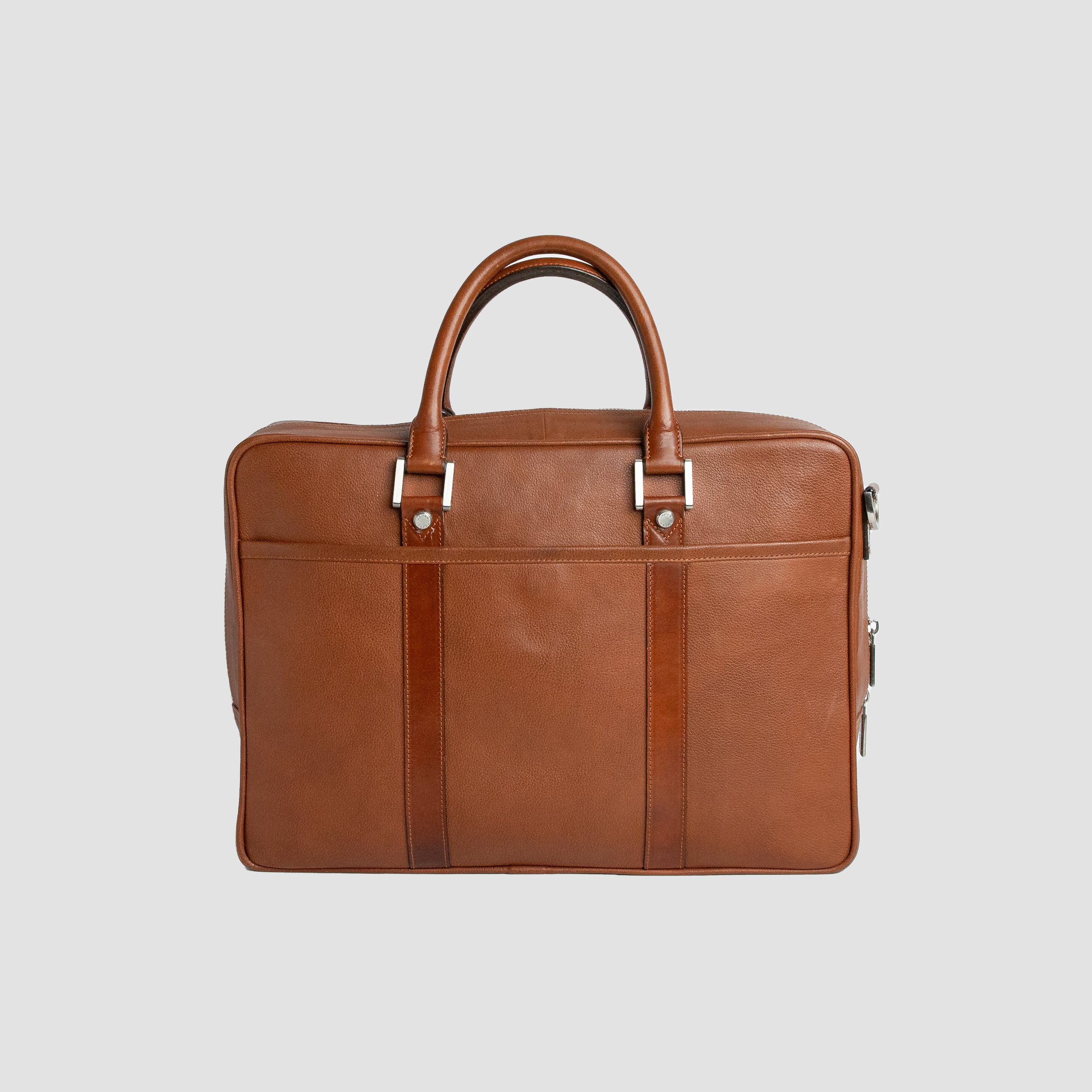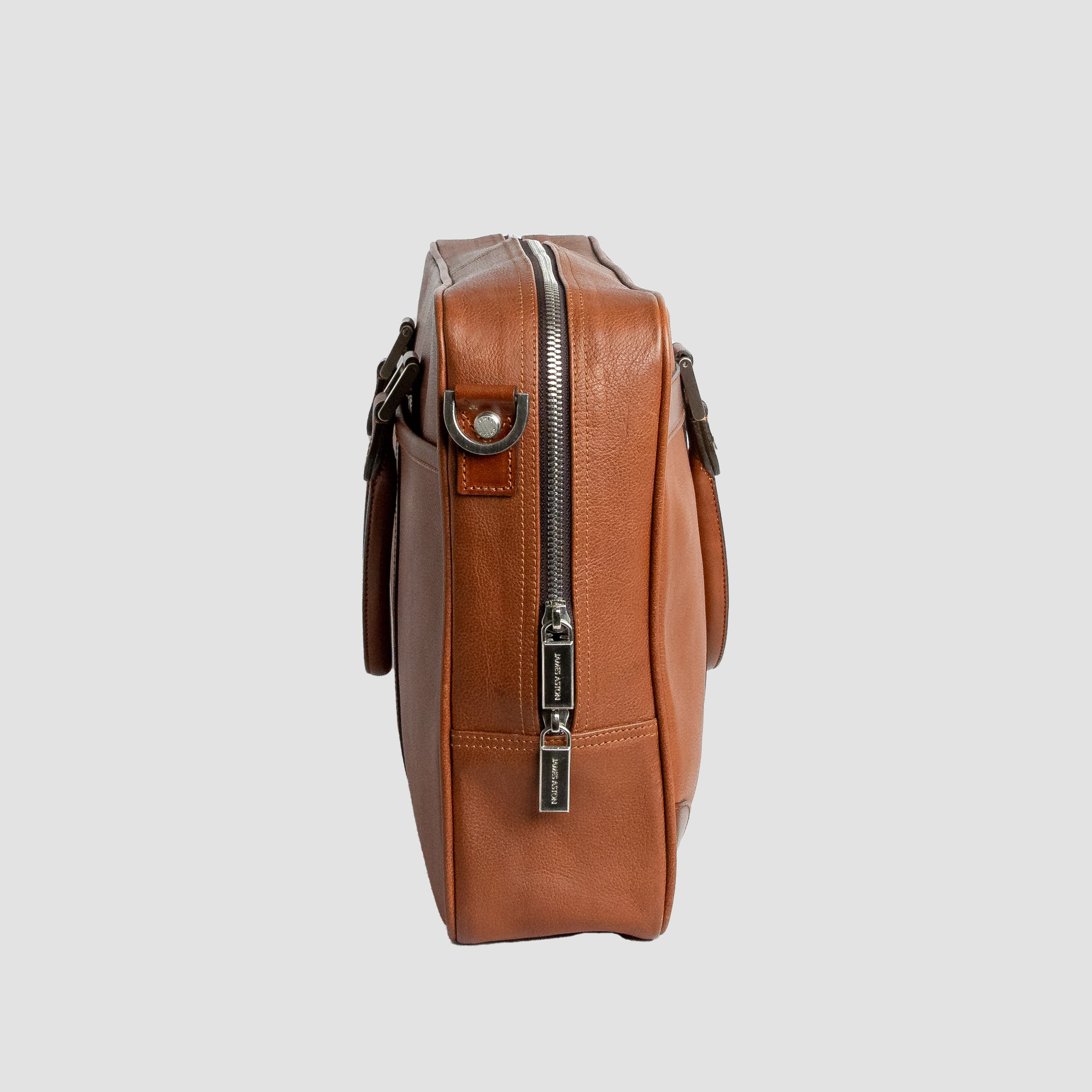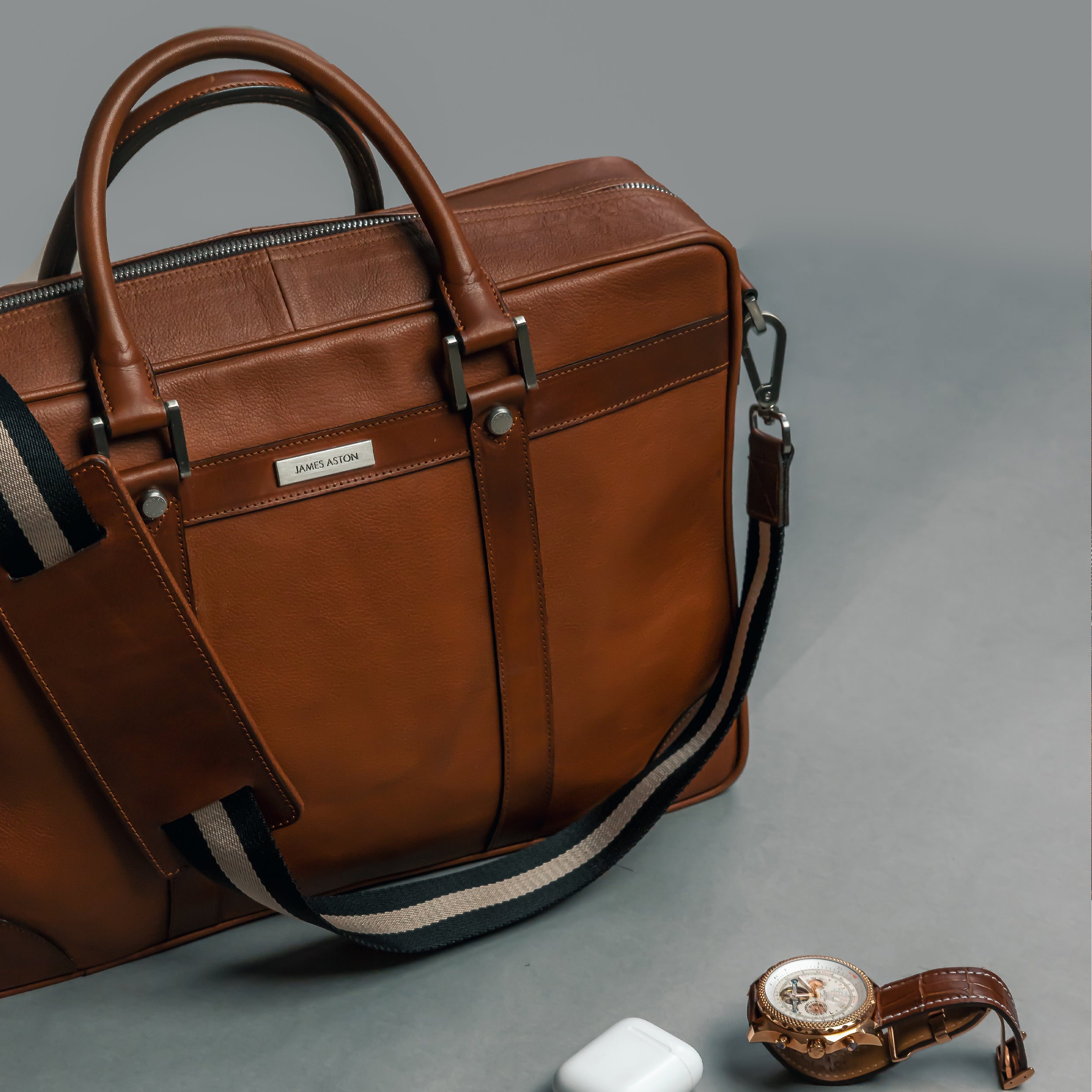 Description
The Moderator Laptop bag has been very intricately and thoughtfully designed with an extensive pocket system where you witness astounding spatial management. The cryptic design allows you to carry every possible work related item or accessory in one bag itself.
Leather
Spanish Full Grain Milled Leather
Trims and Handle: Spanish Full Grain Leather
Other Materials
Imported Zamac Squares with Brush Nickel Polish
YKK Zipper
James Aston Logo Plate
James Aston Logo Screw
Imported Nylon Shoulder Strap with Imported Zamac Snap Hooks
James Aston Logo Engraved Pullers
Imported Zamac Adjuster with Brush Nickel Polish
Imported Zamac D-Rings with Brush Nickel Polish
Lining: JA Jacquard Lining
Dimensions
40.cm (L) x 28.5cm (H) x 11.5cm (W)
Compartments
16" Laptop Pocket
Mobile/Charger Holder
3 Card Slots
2 Pen Holders
Side Pocket with Chain
Back Magnetic Pocket
FAQ
What is your cancellation policy?
If you want to cancel an order, it should be done immediately after placing the order. However, the cancellation request may not be entertained if the orders have been communicated to vendors/merchants and they have initiated the process of shipping them.
How long does it usually take for the order to ship?
After you have placed an order with us, it usually is dispatched within 2 days.
What is your refund/return policy?
Please make a video of you unboxing the package sent by us as Refund/Replacement will only be considered if the unboxing video is provided while receiving the product and the request has been made to info@jamesaston.in within 3 days after receiving the product. In case of receipt of damaged or defective items please report the same to our Customer Service team on info@jamesaston.in. The request will, however, be entertained once we have checked and determined the same at our own end. This should be reported within 3 days of receipt of the products. Personalised or customised products are not subject to return or exchange. In case you feel that the product received is not as shown on the site or as per your expectations, you must bring it to the notice of our customer service within 3 days of receiving the product. The Customer Service Team, after looking into your complaint will take an appropriate decision. In case of any Refunds approved by the NAMO NAMAH EXIM (P) LTD., it'll take 9-15 days for the refund to be processed to the end customer.
What guarantee/warranty is provided along with the products?
Depending on the product, the warranty issued can be of LIFETIME SERVICE warranty or LIMITED 1 YEAR SERVICE warranty. The warranty issued with a product covers:
● Service/Replacement for any material/fittings apart from the leather, for example - buckles, locks, zippers, D-rings etc.
● Service for any product if it's threading has worn off.

We do not entertain any warranty claims for the leather if it has been misused or damaged.
The skin of The Moderator Laptop Bag is derived from España leather. The top is made from Spanish full-grain milled leather, whereas the trims and handles are made from Spanish full-grain leather. This type of leather is complimented by the gleaming colour of the bag. The variety of pockets in the bag allows all of your essentials to have a space and region of their own where they sit in place. These pockets include a 13-inch laptop pocket, 4 card slots, holders for your mobile and chargers, 2 pen holders, and a back pocket.
This bag not only gives high utilitarian weightage but also boasts a style statement. Speaking of its exterior, it is adorned with a James Aston logo plate and screw, a YKK zipper, and James Aston logo engraved pullers. These features include imported Zamac squares, D-rings, and adjusters, all polished in brush nickel polish. The imported nylon shoulder straps of this bag are paired with imported Zamac snap hooks. To round off this buffet of qualities, the bag is lined with James Aston's jacquard lining.